We live in a downright crazy time in the history of the world. A time of wars and rumors of wars when men's hearts shall fail them and even the very elect will be deceived. Yep, we're there. Elder Neil L. Andersen said,
… The world will not glide calmly toward the Second Coming of the Savior. The scriptures declare that "all things shall be in commotion." Brigham Young said, "It was revealed to me in the commencement of this Church, that the Church would spread, prosper, grow and extend, and that in proportion to the spread of the Gospel among the nations of the earth, so would the power of Satan rise."

More concerning than the prophesied earthquakes and wars are the spiritual whirlwinds that can uproot you from your spiritual foundations and land your spirit in places you never imagined possible, sometimes with your barely noticing that you have been moved.
Lately these spiritual tornadoes have been creeping closer and closer to my home. I just want to pull my family inside, batten down the hatches and ride out the storm in the safety of my home.  But then I was struck by the story of the Savior and the tempest, as found in Mark 4:36-39. The Savior and the Apostles were in a boat, and the Savior was asleep. A great storm came up, and the Apostles were frightened. So they woke the Savior, who rebuked the wind and calmed the sea. But what really struck me is that the Savior was in the boat with His Apostles. He was always there, ready to help when needed. He was always found ministering to the one. And I realized that is my mandate too.
But my mandate goes beyond ministering to the one and following the Savior. As a mother, it is my job to teach my children to do the same. And so, kids, I am writing this to you so that I can prepare you for the storms and then teach you how to minister during them. I only have a few short years left to teach them before they start graduating from high school and leaving the house (even though I don't like to think about that!). So I am taking to heart these words from President Henry B. Eyring:
A wise parent would never miss a chance to gather children together to learn of the doctrine of Jesus Christ. Such moments are so rare in comparison with the efforts of the enemy. For every hour the power of doctrine is introduced into a child's life, there may be hundreds of hours of messages and images denying or ignoring the saving truths.

The question should not be whether we are too tired to prepare to teach doctrine or whether it wouldn't be better to draw a child closer by just having fun or whether the child isn't beginning to think that we preach too much. The question must be, "With so little time and so few opportunities, what words of doctrine from me will fortify them against the attacks on their faith which are sure to come?" The words you speak today may be the ones they remember. And today will soon be gone.
Now, I don't claim to always be a wise parent. But I do love my kids, and I worry about them. I worry that I haven't done enough to prepare them for the storms of life. So, I'm writing this to my kids, and in case I haven't told them enough, here goes again…
The Savior Taught the Doctrine
The way to prepare for the spiritual storms of life is by learning the doctrines of the gospel of Jesus Christ as taught in The Church of Jesus Christ of Latter-day Saints. Elder Andersen taught,
How do you prepare for your whirlwinds? "Remember … it is upon the rock of our Redeemer, who is Christ, the Son of God, that ye must build your foundation; that when the devil shall send forth his mighty winds, … his shafts in the whirlwind, … when all his hail and his mighty storm shall beat upon you, it shall have no power … to drag you down … because of the rock upon which ye are built." This is your safety in the whirlwind.
The prophet and apostles in The Church of Jesus Christ teach the pure, true doctrines of the Savior. Alma, an ancient prophet in the Book of Mormon, illustrated the power that comes from teaching pure doctrine. President Eyring explained,
Alma was the leader of a people faced with destruction by ferocious enemies. In the face of that danger, he could not do everything, so he had to choose. He could have built fortifications or created armaments or trained armies. But his only hope of victory was to get God's help, and for that he knew the people must repent. And so he chose to try one thing first:

"And now, as the preaching of the word had a great tendency to lead the people to do that which was just—yea, it had … more powerful effect upon the minds of the people than the sword, or anything else, which had happened unto them—therefore Alma thought it was expedient that they should try the virtue of the word of God" (Alma 31:5).

The word of God is the doctrine taught by Jesus Christ and by His prophets. Alma knew that words of doctrine had great power. They can open the minds of people to see spiritual things not visible to the natural eye. And they can open the heart to feelings of the love of God and a love for truth. 
The doctrines of the Savior never wavered. He taught the truths of the gospel with love and concern for everyone. When confronted with the woman taken in adultery, He didn't tell her it was OK. He told her to go and sin no more. He acknowledged both her need to repent and the opportunity that she had to do so. But we can't stand up for the doctrines of Christ if we don't know what they are. So where do we find the doctrines of Jesus Christ? Elder L. Tom Perry taught,
How blessed we are to have the words of the holy prophets preserved through the many dispensations of time. Because the Lord commanded His prophets to make a record of His teachings, the Old and New Testaments give us a continuity of gospel teaching from the very beginning of time. Then the miracle of the Book of Mormon was brought forth as another witness of the mission of our Lord and Savior. Added to this we have the revelations contained in the Doctrine and Covenants and the teachings and revelations contained in the Pearl of Great Price.
In addition to the words of the ancient prophets, we also have the words of the modern prophets. Once we know the teachings of Jesus Christ and the commandments that we have been given, then we must live them. Sister Cheryl C. Lant explained,
There is only one way to become personally converted. It is through a witness of the Spirit as we study these very scriptures that testify of Jesus Christ. It comes as we pray and as we fast. It comes only when we have a deep desire to know the truth. Our motivation must be to openly seek truth rather than justify our actions by finding fault with the scriptures, the teachings of the prophets, or the Church itself. Our effort must be toward hearing the interpretations of the Spirit rather than the understandings of the world. We must be willing to open our hearts and minds, accept the Lord's way, and, if need be, change our lives. Our personal conversion comes as we begin to live the way the Lord wants us to live—steadfast and immovable in keeping all of the commandments, not just those that are convenient. This then becomes a process of refinement as we strive to make each day a little better than the last.
As we live and apply the doctrines of Jesus Christ in our lives, we become stronger and more able to withstand the evil day.
Stand Up for the Right
In this day and age, the time has come for us to stand up for the doctrines and teachings of Jesus Christ. And this can be scary, especially with friends at school and work. But it doesn't have to be a big deal. Recently, I worked as a proctor for the standardized ISAT testing. As the ISAT testing was coming to an end, one of the ladies with whom I worked said that she was going to invite all of the proctors to her house for some wine. And she said, "Lisa, I'll have some sparkling cider for you." Another woman, whom I have known casually for several years, said, "Oh, I'm sure that Lisa will have some wine." And the other lady said, "No, she won't." And I smiled and just said, "No, I really won't." I'm not sure how the first lady knew that I don't drink alcohol, but she did. And I appreciated that she was willing to accommodate me. In this case, I didn't have to say much to stand up for my convictions. But that isn't always so.
Elder Jeffrey R. Holland said,
With admiration and encouragement for everyone who will need to remain steadfast in these latter days, I say to all and especially the youth of the Church that if you haven't already, you will one day find yourself called upon to defend your faith or perhaps even endure some personal abuse simply because you are a member of The Church of Jesus Christ of Latter-day Saints. Such moments will require both courage and courtesy on your part.
As Elder Holland suggests, standing up for the right isn't always an easy task. And sometimes it's difficult to know just what the right thing to do is. Again, this is where we turn to the example that the Savior set for us. If we are following the light of the Savior, then we are on the right path. Elder Quentin L. Cook taught,
As individuals, disciples of Christ, living in a hostile world that is literally in commotion, we can thrive and bloom if we are rooted in our love of the Savior and humbly follow His teachings.
I know that my kids are getting to the age where they are concerned with popularity and fitting in. But that's not their role in the world. They need to stand out and stand up as disciples of Jesus Christ. As Elder Holland said,
You may wonder if it is worth it to take a courageous moral stand in high school or to go on a mission only to have your most cherished beliefs reviled or to strive against much in society that sometimes ridicules a life of religious devotion. Yes, it is worth it, because the alternative is to have our "houses" left unto us "desolate"—desolate individuals, desolate families, desolate neighborhoods, and desolate nations.

So here we have the burden of those called to bear the messianic message. In addition to teaching, encouraging, and cheering people on (that is the pleasant part of discipleship), from time to time these same messengers are called upon to worry, to warn, and sometimes just to weep (that is the painful part of discipleship). They know full well that the road leading to the promised land "flowing with milk and honey" of necessity runs by way of Mount Sinai, flowing with "thou shalts" and "thou shalt nots."
I want my kids to understand this truth: Your friends may not show it now, but they will always respect you for doing what's right. And only in standing up for what is right can you stand strong against the raging storms.
Love and Serve Our Neighbors

Following the Savior also requires us to love and serve our neighbors—even when it's hard. As disciples of Jesus Christ, it is our responsibility to show the world how much the Savior loves them. His message was one of love, peace and service. He taught us the importance of loving God and our neighbor:
Thou shalt love the Lord thy God with all thy heart, and with all thy soul, and with all thy mind. … And the second is like unto it, Thou shalt love thy neighbour as thyself.

On these two commandments hang all the law and the prophets (Matthew 22:37, 39–40).
Elder M. Russell Ballard taught,
The Savior's words are simple, yet their meaning is profound and deeply significant. We are to love God and to love and care for our neighbors as ourselves. Imagine what good we can do in the world if we all join together, united as followers of Christ, anxiously and busily responding to the needs of others and serving those around us—our families, our friends, our neighbors, our fellow citizens.
The world is full of people who need our help—some right in our own back yard that we don't even know need help. Elder Ballard said,
We read of the service Church members provide around the world and especially the humanitarian service given in times of crisis—fires and floods and hurricanes and tornadoes. These much-needed and much-appreciated emergency responses should certainly continue as a way of bearing one another's burdens. But what about our everyday lives? What would be the cumulative effect of millions of small, compassionate acts performed daily by us because of our heartfelt Christian love for others? Over time this would have a transformative effect upon all of our Heavenly Father's children through the extension of His love to them through us. Our troubled world needs this love of Christ today more than ever, and it will need it even more in the years ahead.
This is the love that we need to spread not only in our home but to our friends, teachers, and others with whom we interact on a daily basis. It doesn't have to be a huge ordeal. It can be something as simple as a smile and saying hello to someone. It just means reaching out in small but significant ways. Elder Ballard taught,
These simple, daily acts of service may not seem like much in and of themselves, but when considered collectively they become just like the one-twelfth teaspoon of honey contributed by a single bee to the hive. There is power in our love for God and for His children, and when that love is tangibly manifest in millions of acts of Christian kindness, it will sweeten and nourish the world with the life-sustaining nectar of faith, hope, and charity.
Spiritual Tornadoes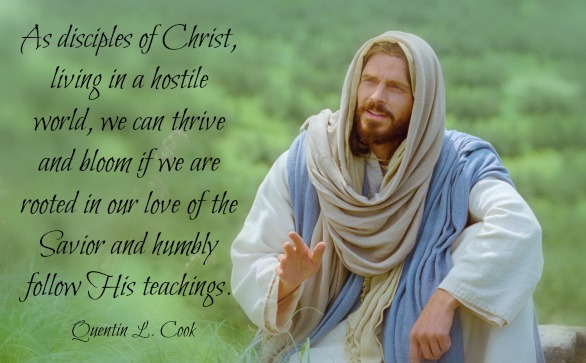 The storms of life will come—and some are already here. My goal in teaching my kids this isn't to make them fearful of the road ahead. Rather, I want to prepare them for it. Because there is a purpose to all things in our lives—including spiritual whirlwinds. Elder Andersen said,
Challenges will come to you, but as you trust in God, they will strengthen your faith.

In nature, trees that grow up in a windy environment become stronger. As winds whip around a young sapling, forces inside the tree do two things. First, they stimulate the roots to grow faster and spread farther. Second, the forces in the tree start creating cell structures that actually make the trunk and branches thicker and more flexible to the pressure of the wind. These stronger roots and branches protect the tree from winds that are sure to return.

You are infinitely more precious to God than a tree. You are His son or His daughter. He made your spirit strong and capable of being resilient to the whirlwinds of life. The whirlwinds in your youth, like the wind against a young tree, can increase your spiritual strength, preparing you for the years ahead.