In April 1973 Elder Gordon C. Thomasson spoke at a general conference of The Church of Jesus Christ of Latter-day Saints.  His subject was ". . . . The Place of Suffering in the Gospel of Unselfishness."  All talks given in The Church of Jesus Christ center in some way on the Savior, and this address was no exception.  But Elder Thomasson's message involved our own involvement in bringing others to Christ, whether those others dwell close to us in mortality, or whether they have passed on, or are as yet unborn.  He said the following:
…We are told that by taking the gospel to others and bringing them to repentance, by doing genealogy and temple work, and by living Christ-like lives, we can come to stand as saviors on Mount Zion. By freely giving his life, Christ, and Christ alone, atoned for all mankind. We have the opportunity of aiding others to accept his love and his sacrifice—the gift of the atonement—and thereby aid in the work of exalting the human family, becoming saviors on Mount Zion.
The Great Commission Extends Beyond the Boundaries of Mortality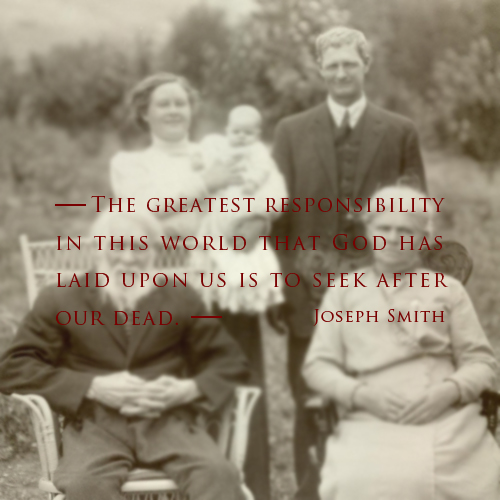 God's great commission to us is to take the gospel of Jesus Christ to the world.  Revelation to modern prophets has shown us that this commission expands into the eternities.  When the prophet Joseph Smith was visited by the Angel Moroni in preparation for receiving new scripture, Moroni quoted Malachi 4:6, prophesying of the return of Elijah the Prophet before the Second Coming of Christ to turn the hearts of the fathers to their children and the hearts of the children to their fathers. 
The apostle Paul spoke of the ordinance of baptism for the dead as if it were commonplace and needed no explanation.  (See 1 Corinthians 15:29.)  That ordinance was corrupted after the death of the apostles and finally dropped from Christian practice.  It has been restored in modern times through Mormon prophets and is practiced in Mormon temples.  Ordinances performed in Mormon temples for the deceased give the deceased the opportunity to receive the saving ordinance they missed during their sojourn on earth.  Doing our family history work and performing these ordinances in Mormon temples enables us to bring our deceased ancestors to the feet of Christ, there to accept or reject Him.
Interrupting Cycles of Unhappiness Makes Us Saviors on Mount Zion
My mother suffered from Narcissistic Personality Disorder, as did her mother.  These women were terribly difficult to live with and heaped abuse (mostly verbal in my mother's case, but not always in my grandmother's) on their husbands and children.  I found The Church of Jesus Christ at age 15, and as I grew in understanding of the gospel and principles of love, I determined the cycle of abuse was going to stop with me.
I remember when my elderly mother was in the hospital, essentially dead, while her second husband delayed removing the myriad of tubes that kept her heart beating.  I stood at the door of the hospital room unable to go to her, not wanting to touch her.  My father had told me that my mother was the same upon her own mother's death.  She could not bring herself to touch the woman who had inflicted so much undeserved pain upon her.  I realized I was part of a vicious cycle, but I couldn't do anything about it.  My initial response when my mother lost her ability to speak was to think, "You can't hurt me any more."
I wondered if my own children (I had six) would remain apart at the hospital room door when I lived my final moments.  I walked back into the waiting room and sat down among them.  My daughter, then fourteen, flung herself across my lap like a lazy cat longing to be stroked and requested that I play with her hair.  I realized that the cycle was broken.
Work, Sacrifice, and a Loving Heart
Note that the title of Elder Thomasson's talk includes suffering.  The suffering he speaks of is the result of empathy and love.  It's the same type of suffering the Savior Jesus Christ bore for us out of love.  We must openly forgive, love and sympathize until it hurts, develop more capacity to forgive, love, and sympathize, and never shrink.  Mormons speak of "enduring to the end in faith," but really, exaltation requires enduring to the end in love.  I worked to forgive my parents and love my family until Christ completely healed me through the power of His priesthood.  By refusing to perpetuate the travesties of my mother and grandmother, I have reaped the reward of a truly happy family, and we have had fun as well as joy.
Along the way, the Lord has rewarded me with spiritual insights, so that I can see the healing taking place on the other side.  He has led me through miraculous experiences to see that it was my parents, both deceased, who facilitated my healing.  I have seen that they have healed their own relationship and are together, along with my sister, who died at a young age and was handicapped throughout her mortal life.  I also know that many of my ancestors, all non-Christians, have accepted the gospel of Jesus Christ and the temple ordinances performed for them through my family history research and temple work.
Said Elder Thomasson:
If we desire exaltation we must answer two questions: How happy do you want to be, and how much are you willing to give? For if we truly desire the work and glory that can only come through bringing to pass the immortality and eternal life of other spirits, we must be willing to suffer with them and for them, living the gospel of unselfishness.