The Church of Jesus Christ of Latter-day Saints (sometimes nicknamed the "Mormon Church") does not have a professional clergy like most other religions.  Instead, lay members are "called," through inspiration from God by those in higher authority, to serve in various ways in the Church.  All "callings" are temporary, except for the president of the Church, the twelve apostles, and some "seventies" who together comprise the "general authorities" or main leadership of the Church of Jesus Christ.  People who serve in callings do not leave their worldly vocations, but still may offer up to twenty hours each week in their voluntary service to the Church and its membership.
All worthy men in the Church of Jesus Christ may hold some level of "priesthood."   The word priesthood means something different in the LDS Church than it does in other churches.  There is no formal education for the priesthood, nor is anyone paid for exercising priesthood duties.  Priesthood is the power and authority of God, shared with His children on earth in a highly organized manner, and for their benefit.  One could say that priesthood is the power that drives the universe and through which the universe was created.  Thus, priesthood is not an office, but there are offices or functions within the priesthood service structure.
Worthy boys age 12 and over may first be ordained as Deacons in the Church, then boys aged 14 and over as Teachers, and worthy boys age 16 and over as Priests within the framework of the lesser, or Aaronic priesthood.  These young men may pass, prepare, or bless the holy sacrament, and priests can baptize.  A young man over age 18 who is living worthily can be ordained to the higher, or Melchizedek, priesthood.  Then he may make eternal covenants in holy Mormon temples.  All young Mormon missionaries have made Mormon temple covenants, and all the male missionaries hold the higher priesthood.
The Melchizedek Priesthood enables worthy men to partake of and participate in all the same miracles performed by the original apostles of old.  Miracles are daily events in the lives of Mormons.  Through the laying on of hands, Melchizedek priesthood holders are able to offer prophetic blessings, relaying information from God through revelation, and also to heal and comfort those seeking help.  They can also perform ordinances in their area of stewardship.  "Stewardship" is the area of responsibility one oversees, and each Mormon member is privileged to receive revelation for his or her stewardship.    When a Mormon husband is called to a position of responsibility in the Church, the wife also becomes involved.  Mission presidents are accompanied by their wives and often their children, and the wives have much responsibility in the mission (lasting 3 years).  In Mormon temples, Mormon women also perform ordinances for other sisters who attend.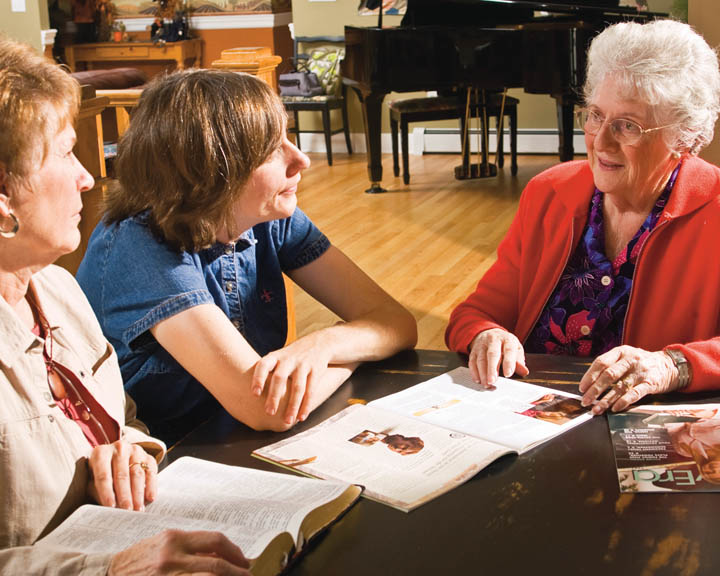 Mormon women are extremely busy.  The Lord's commandment to women is identical to that of men — "no success can compensate for failure in the home" (Prophet David O. McKay).  Thus, both men and women consider the quality of family life before making any decision in their vocations or church callings.  Every aspect of Mormon church organization is geared toward supporting family life.  This said, many Mormon women work outside the home  (in Utah, only 12% of Mormon moms stay home), and Mormon families tend to be larger than the norm.  In the LDS church organization, women  run the Primary (children 18 months to 12 years, with two hours of Sunday meetings, and outside activities); the Young Women's organization (girls 12 to 18, with 1 hour of Sunday participation, 1 outside meeting each week, a plethora of activities and a yearly camp); and the Relief Society (women's organization, with 1 hour of Sunday meetings, many outside activities and service projects, visiting the homes of sisters, and relief work).  Women also teach Sunday School and seminary and work with Cub Scout and Boy Scout troops, organize congregational activities; write, direct, and stage various productions;  participate in musical events; do family history and temple work; and engage in personal gospel study and family-oriented spiritual enrichment.
All of the auxiliaries of the LDS Church function under the auspices of the priesthood and may call upon priesthood power to help them in their duties.  Women also share in the priesthood power of their husbands.  All may receive personal revelation and blessings of strength and insight to help them in their callings.  All may receive personal revelation and miraculous help as the result of personally supplicating the Lord for such.  The power of prayer is great.
As far as the general authorities of the LDS Church are concerned, women run the international Primary, Young Women, and Relief Society organizations.  The Relief Society is the oldest and largest women's organization in the world, with over 5 million members.  Thus, to be general president of the Relief Society is no small job.
Were women to hold the priesthood as men do, it would add a huge load to what they already carry.  A male priesthood holder might be called upon to go and give a priesthood blessing to someone in need day or night.  Many administrative duties (audits, records, interviewing, organizing church units) are handled by men who hold the priesthood.
My Personal Take on Mormon Women and the Priesthood
I converted to The Church of Jesus Christ of Latter-day Saints when I was 16, and it was the best decision I ever made.  I have enjoyed hobbies, and part time work while I raised my family, and even had the opportunity with them to live abroad for 15 years.  After our children were mostly out of the house, I pursued my career interests again.  I was married in the Mormon temple, and the idea that our family can be an eternal unit has deeply affected the structure of our family and how family members relate to each other.  I have been married for 44 years, and the eternal marriage covenant has affected how my husband and I work at our marriage in a wonderful way.
What a huge, unmatched blessing it has been for all of us to have the priesthood power in our home.  I have been miraculously healed on many occasions through the power of the priesthood, as my husband has laid his hands upon my head and called down the powers of heaven in my behalf.  I have also received a great deal of encouragement and even prophecy in the same manner.  However, when no priesthood holder was available, these same powers were mine to call upon, because I share in that priesthood.
In my local congregations I have been a Relief Society President, a Primary President, a Young Women's President, a Sunday School Teacher, a speaker, a choir member.  I have written plays and musical presentations, organized parties, working in scouting, attended camps, and served in many other capacities.  I have participated in humanitarian aid projects and welfare projects on an ongoing basis.  I have raised six children (and have 13 grandchildren), am a published author, have traveled the world.  My participation in church callings has honed my talents and abilities and engaged all of them for a worthy cause, that of bringing myself, my family, and others to Christ.
What would it avail me to "hold the priesthood" myself?  Nothing but more responsibility and work, too much to bear, in my opinion.  There are no professional priesthood positions in the LDS Church.  No man can become a professional priest.  So no woman could, either.   That I do not directly hold the priesthood causes me no pain, just relief.  I have all the blessings, but not the responsibilities.  God loves His daughters.  I feel that love every day.  The organization of His Church is such as to bring me the greatest benefit, the greatest joy possible.