By Ashley
There are over 80,000 Mormon volunteer missionaries (From Mormon Newsroom). Who are these missionaries? They are members of The Church of Jesus Christ of Latter-day Saints (commonly called the "Mormon Church" by friends of other faiths), both men and women, ranging from teenagers to the elderly. Their purpose is to "Invite others to come unto Christ by helping them receive the restored gospel through faith in Jesus Christ and His Atonement, repentance, baptism, receiving the gift of the Holy Ghost, and enduring to the end" (Preach My Gospel, 2004, p. 1). Why do these missionaries spend all of their waking time, sharing this message? Why do they spend their own money doing it? And why should this matter to you?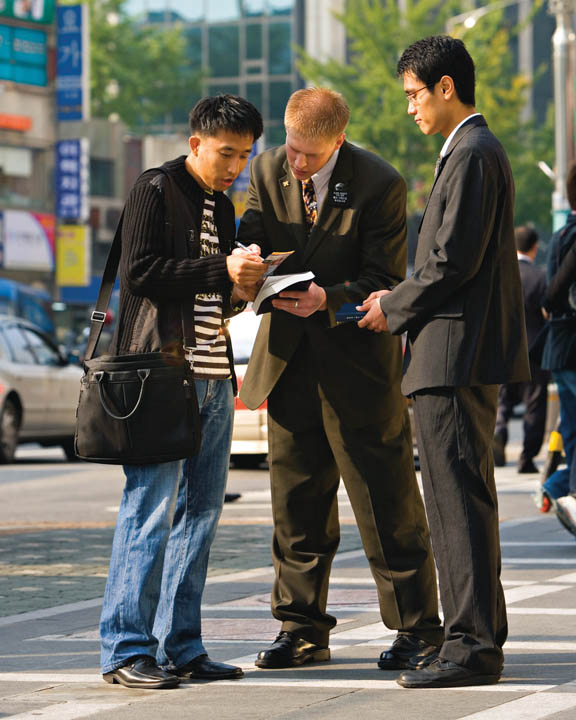 Being twenty-three years of age myself, I still have a lot of friends on missions (once you start having a family it is required to wait until your youngest child is eighteen to serve a "senior mission"). I love getting letters from them and hearing of their successes and their excitement for what they are doing. Each one of them made a personal decision long ago that they love the Savior Jesus Christ and would do everything they could to share His message with the world. And I know a lot of Mormons who aren't serving full-time missions who also preach the gospel in whatever way they can. There are some who wonder why the big push on missionary work, especially when sharing the message of Christianity with other Christians. Well, Mormons believe there is truth found all around, but the fullness of the truth is found within The Church of Jesus Christ of Latter-day Saints. And when someone has something they love so much, and believe in so much, of course they are going to invite others to join in on their happiness.
Some may believe that it is not good to bother others, but think of it like this: my husband and I heard of this little restaurant called Chicago Pizza and Oven Grinder Co. with the best pizza pot pies anybody could ever dream of. Yum, yum, yum! But the restaurant is found in the basement of an apartment building, and I am pretty sure we would never have found this place, let alone have gone in, unless somebody else referred us to it. In fact this restaurant doesn't even spend money on advertising, yet they are packed! Thank goodness we were referred, because we love it. That idea is like missionary work in the gospel of Jesus Christ: members want everyone to "try it" and we aren't going to just let a select few happen to find it; we want to share it with the world.
So, the big question, why become Mormon?
For me personally, I couldn't even list all of the reasons that I enjoy, rather, need to be Mormon, but let me list my top reasons. And in case you are tempted to stop reading this article, let me share with you my number one reason first:
1) I echo the words that Spencer W. Kimball (former President of the LDS church), "I know that God lives, that Jesus is his Only Begotten Son, the Redeemer of the world, and that this is the Church of Jesus Christ, with him as its head" ("The Role of Righteous Women" Ensign, Nov. 1979). Since Christ is at the head of this Church, I surely want to be a member of it.
2) Families can be together forever! Yup, that's right, but the key word is can—they don't necessarily have to be together forever. The choice is ours—and the choice is only available by accepting/living the proper terms and conditions the Lord has set. So why does Mormonism fit in this picture? Because Mormons have the priesthood which make this blessing possible. Prophets of the Lord Jesus Christ have revealed that "priesthood" is something different than how most religions define it, in that it is not a religious vocation, or hired position; rather it is the power and authority to act in God's name. It is given to all worthy male Mormons, who wish to have it, by the laying on of hands. Not only are all the miracles and spiritual gifts found in Christ's primitive church available through priesthood power, but this priesthood enables individuals to receive the ordinances (sacred, formal acts) of the gospel; the crowning ordinance being, of course, the sealing (binding) of a family by the Holy Spirit. I love my family and indeed want to be with them forever, yet another great reason to be Mormon.
3) Associations within the LDS church are fabulous! Mormons worship on Sundays in congregations that are divided into what are called wards or branches. Wards are congregations of about 500 people each, organized by location (branches in areas where the church is not developed sufficiently to warrant a ward). Each ward or branch operates in a way that members help each other both temporally (when needed) and spiritually (always). Ever since I was a little girl, the friends I have made at church have blessed me—others who have high moral standards always surrounded me, lifting me up. There is also an inspired program called home and visiting teaching where men and women are asked to watch over families to make sure all of their needs are being met (spiritually, physically, emotionally) providing a way for each person to be remembered. And again, another great reason to be Mormon.
4) Last but not least, people should be Mormon because the Bible tells us to be. The following 17 points have been taken from a card that is published by The Church of Jesus Christ of Latter-day Saints; it shares requirements of Christ's true church taken from the Holy Bible. Not coincidentally the LDS Church meets every one of the points:
I am grateful to be a Mormon. I know that The Church of Jesus Christ of Latter-day Saints is true. I have received that witness from the Holy Ghost. There are countless reasons to be Mormon, but again, my favorite reason is because this is Christ's church; everything else just falls into place. I know through the proper ordinances within the LDS church I can return to live with my Heavenly Father with my eternal family, and I love that truth. I invite all who read this to learn more about why being Mormon would bless your life. And you don't have to take my word for it. Ask God Himself. He will tell you.
http://www.youtube.com/watch?v=pAiaDwrKjp4&feature=youtu.be
Summary
Article Name
Author
Description
There are several reasons why many people become Mormons but it's mainly because Christ is the head of the church and that families can be together forever.
About Keith L. Brown
Keith L. Brown is a convert to The Church of Jesus Christ of Latter-day Saints, having been born and raised Baptist. He was studying to be a Baptist minister at the time of his conversion to the LDS faith. He was baptized on 10 March 1998 in Reykjavik, Iceland while serving on active duty in the United States Navy in Keflavic, Iceland. He currently serves as a Gospel Doctrine teacher and Ward Missionary for the Annapolis, Maryland Ward. He also serves as a Stake Public Affairs Specialist for the Annapolis, Maryland Stake. He is a 30-year honorably retired Navy veteran.