Prophets Give Counsel, Leading to Jesus Christ
 is a BYU student and member of The Church of Jesus Christ of Latter-day Saints (sometimes known as the "Mormon Church" by the media). She is currently taking a religion course at Brigham Young, where she is learning about the Joseph Smith-Matthew (JSM) which is the Joseph Smith Translation of Matthew 23:39–24:51. Below are her thoughts and feelings concerning this book and how it applies to our lives today: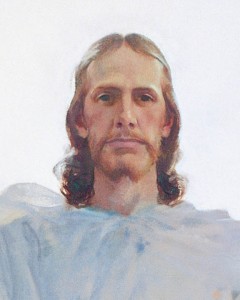 Over the past year I have felt the power of Satan stronger than I ever thought possible. One of my best friends left the church because of same-sex attraction, my now ex-husband went apostate due to deceptive concepts of false prophets, a close friend of mine admitted to being heavily addicted to pornography for the past 8 years, and my younger cousin became mentally unstable and went on a killing spree before he took his own life. All of these loved ones of mine were at one point or another strong and steadfast Latter-Day Saints in the Gospel. And so, time and time again I've asked WHY?? Why did this happen and why does it seem to be everywhere around me? How can I survive in a world with such evil? By reading Joseph Smith—Matthew with the understanding that those things are going to happen in our day, it gives me strength and comfort to withstand this evil and heartache that I'm constantly being faced with.
"For in those days there shall also arise false Christs, and false prophets, and shall show great signs and wonders, insomuch, that, if possible, they shall deceive the very elect, who are the elect according to the covenant" (JSM 1:22). Having witnessed these things firsthand, the knowledge that these words are for our day makes me feel honored to be counted as one of the elect, but it also makes me be more alert knowing that Satan is after me specifically.
A few of the horrific things described from the meridian of times included robbers, murders in broad daylight, courts being abolished, corrupt leaders, and revolts. This resembles many things that are occurring in other parts of the world such as what is going on in the Middle East. By reading from the experiences of the past we can learn how to avoid them during this time, or at least learn how to protect our loved ones and ourselves. We can make a conscious effort to keep corruption out of society, stand up for our rights and liberties, and raise children who will do the same.
Are we living our lives in such a way that we can worthily call upon the Lord and receive his blessings? If not, then now is the time to repent and clear our conscience. The Romans of our day will someday come to bring us into bondage. We must become clean so that we can be saved through our Savior Jesus Christ, who is the only way to safety.
It is easy to get down on ourselves as we witness the evils around us and read about those still to come. However, JSM can be a beacon of hope to those who are faithful. Despite our surroundings, some day "they shall see the Son of Man coming in the clouds of heaven, with power and great glory; And whoso treasureth up my word shall not be deceived, for the Son of Man shall come, and he shall send his angels before him with the great sound of a trumpet" (JSM 1:36-37). If we will follow the instruction to "watch" and "be ye also ready" then we will have nothing to fear. We can use JSM as a source of comfort in knowing that one day our Savior will come and we will be ready to meet him.
Read/watch/listen to today's prophets and apostles on the official website of The Church of Jesus Christ of Latter-day Saints.
Summary
Article Name
False Christs, False Prophets
Author
Description
Katie, a member of the Mormon Church, shares how Joseph Smith's translation of the book of Matthew brings us comfort in the last days against Satan's power.