Written by Molly Roemer, a BYU student, studying a volume of scripture known as the Pearl of Great Price, which is written by prophets; members of The Church of Jesus Christ of Latter-day Saints "Mormons" revere it as sacred text. This post comes from a book within the Pearl of Great Price known as The Book of Moses; it is an extraction from the translation of the Bible as revealed to Joseph Smith the Prophet, June 1830—February 1831.
We All Have Potential to Become Like Our Heavenly Father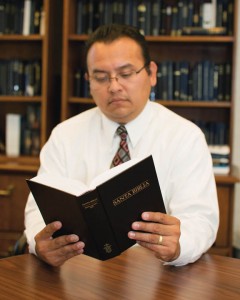 Through Moses's encounter with God in Moses chapter one, found in the Pearl of Great Price—a book of scripture held sacred by Latter-day Saints "Mormons"—he not only learned a great deal about Heavenly Father, but he also learned a lot about himself. I believe that relating the scriptures, these passages in particular, to myself will also help me to learn a great deal about who I am and how that affects my relationship with the Father.
Moses learned that he was created in the image of God and was given "spiritual eyes" that he might see what the Father showed him. After his vision, Moses had to take many hours to regain his strength. He came to the realization that "man is nothing" (see Moses 1:10). Because Moses had seen the glory of God, or at least a small portion of it, he was able to recognize a significant difference between Heavenly Father and Satan. Now Moses, after learning more about who he was, was able to cast Satan out of his presence.
I have always been confused about the ideas that man is nothing, and yet are created in the image of Heavenly Father. I thought that there was no way these both could coincide and be true. My thoughts concerning the verses in Moses 1:1-23, however, were able to help me understand more fully the role that I play, and will hopefully be able to play someday. We have been told by prophets of old that "man is as the dust of the Earth" (See the Book of Mormon, Mormon 9:17). This does not do a whole lot for my self esteem. But as I have questioned it further, I have found that it may very well be the one thing that would help it the most.
If I chose to humble myself as Moses did, then would I soon realize for myself that I was 'nothing'. . Then, and only then, can He make me into the person He wants me to be, and who I will want to be. I can someday become a goddess. It is then, I believe, that I will find that my self esteem and wisdom will have reached a level I could not begin to understand at this point in my life.
Moses has taught me through his relationship with God that my relationship with God the Father will be the difference between me becoming who I need to become. It affects so deeply my relationship with Him while I am still striving to make my potential a reality. It instills almost an urgency to keep pressing forward in faith to do especially the small things to better my relationship with Him. Moses's example can be a wonderful motivator when things seem especially difficult.
Summary
Article Name
Becoming Like Heavenly Father
Author
Description
Molly teaches us through Moses' experience of our true relationship with Christ and how we owe everything to him so we should put our full trust in him.