Written by Naivasha Burrows, a BYU student, studying a volume of scripture known as the Pearl of Great Price, which is written by prophets; members of The Church of Jesus Christ of Latter-day Saints "Mormons" revere it as sacred text. This post comes from a book within the Pearl of Great Price known as The Book of Moses; it is an extraction from the translation of the Bible as revealed to Joseph Smith the Prophet, June 1830—February 1831.
We Can All Have a Relationship with God the Father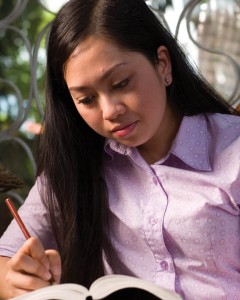 Learning what Moses learned about his relationship with God in Moses chapter one, found in a book of sacred scripture known as the Pearl of Great Price, affects my own relationship with our Heavenly Father immensely. The first thing God tells Moses is his own identity, which is the Lord God Almighty. This testifies of his divinity, but instead of continuing on about his own greatness, he next calls Moses his son. He does this multiple times along with calling upon Moses by name. This just shows the incredible love he had for Moses alone and how much he knows all of us individually.
God the Father also tells Moses that he was created in the similitude of Jesus Christ, his own son. Each and every one of all the people who have ever lived, currently live, and will live, are created in this similitude; in the image of our Father in Heaven. We learn that we are his children, in spirit and body. God the Father has the ability to share his immense knowledge with us, just as he showed and shared with Moses. The only way that the Father could have shown these things to Moses was putting his Glory upon Moses (transfiguration), and having Moses see him with not his natural eyes but his spiritual eyes. When Moses then encountered Satan, he knew he was really the devil and not God, because he was able to see Satan with his natural eyes (See Moses 1:11). He was given the strength, because of his faith and belief in God and only God, to withstand Satan's power. This is one of the greatest gifts that our Heavenly Father could have given us: not just calling and making known to us that we are his children, but that with enough faith in God the Father we will be able to withstand anything that Satan throws at us.
Moses' relationship with God, revealed to us in the first twenty three verses of the first chapter of Moses, has taught me much about my relationship with God. I know that I am a daughter of God and He knows and loves me individually. I know. I know that I must believe in him and no other god in order to have complete faith. I know that the only way to see God is to have his glory upon me so that I might see him with my spiritual eyes. All these are truths revealed to me by the scriptures and the spirit. Moses' relationship with God has affected my relationship with God the Father in that I now know truths about who I am and who he is. That has taught me and affected how I feel about and interact with my Father in Heaven.
Summary
Article Name
My Relationship with God the Father
Author
Description
Naivasha testifies that everyone is a literal spirit child of God the Father and that with him all things are possible, even withstanding all temptations.