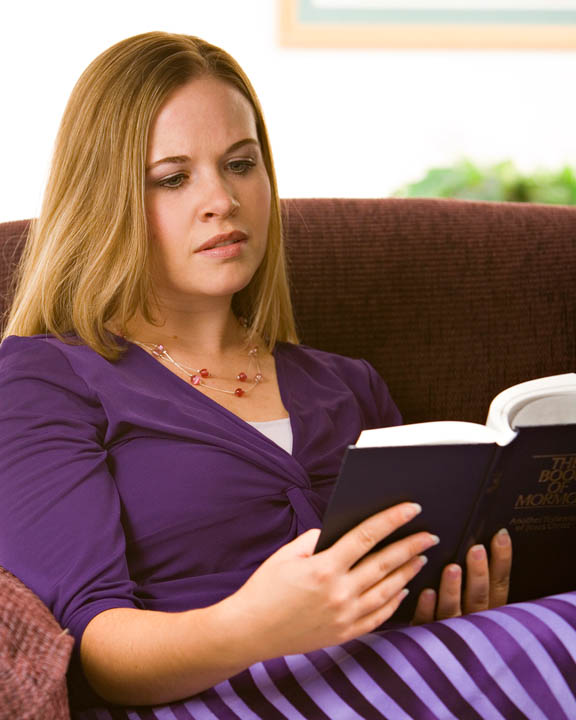 Written by , a BYU student, studying a volume of scripture known as the Pearl of Great Price, which is written by prophets; members of The Church of Jesus Christ of Latter-day Saints "Mormons" revere it as sacred text. This post comes from a book within the Pearl of Great Price known, as The Book of Moses; it is an extraction from the translation of the Bible as revealed to Joseph Smith the Prophet, June 1830—February 1831.
A Personal Relationship with God the Father
As I read from a book of scripture, known as the Pearl of Great Price, in Moses 1:1-23, I was struck by how God the Father talked to Moses. One of the very first things he said was "…thou art my son" followed by "…thou art in the similitude of mine Only Begotten". Later, after the Lord has finished speaking to him, Moses beheld Satan. Satan, knowing the Christ has chosen Moses, has come to tempt him to sin against the Father. What struck me next was, as Moses is speaking to Satan he says, "Who art thou? For behold, I am a son of God".
As I reread these verses, I decided to take the challenge and read through it as though God the Father were speaking to me, and not Moses, therefore, I put my name in place of Moses'. The overwhelming love I felt as I read those verses of scripture is one I cannot deny. I know without a doubt, as did Moses in his time, I am a child of God, and he knows me by name. He wants me to see who I am, and who those around me are, with His eyes and His love.
How does what Moses learned about his relationship with Heavenly Father affect my relationship with Him? It affects it in every way possible. Moses was able to see and talk to the Father, but more importantly he wrote down his experience. Because he wrote it down, I am able to know of the Father's  love for me. I am able to see His hand in my life. I can feel Him with me through my hard times, as well as through my good times. I can look back at my life and see all He has done for me. And I can move forward with my life knowing He is by my side, and He is not going anywhere.
http://youtu.be/xglz6kryORQ
Summary
Article Name
Mine and Moses' Relationship With God the Father
Author
Description
As we read thoroughly, we can learn a lot about our personal relationship with God the Father from Moses' encounter with Him in the Pearl of Great Price.